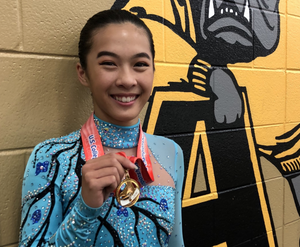 2018 US Collegiate National Champion: Nhi Do
For Immediate Release / The Rinks-Westminster Ice:
17-year-old Nhi Do, representing University of California Irvine won the Senior Ladies title at the 2018 United States Collegiate Figure Skating Championship. This year's National event was held at Adrian College in Michigan. 24 full time College students from all over the US competed
in the Senior Division.
Nhi Do finished with a score of 149.75 topping Heidi Munger of Boston University's 137.99. In addition to the title; Medal winning skaters receive scholarships from the College Championship Award Program.
Nhi began her journey more than 10 years ago in the Learn to Skate program at what was then the Westminster Ice Palace. Along the way Nhi is a US Figure Skating Double Gold Test medalist, has qualified for 2 National Championships, won 2 Sectional Medals, and 7 Regional Medals, 3 of them Gold! Now she adds the title of US National Collegiate Champion to her resume.
An Honors Student graduate from Pacifica High School in Garden Grove, Nhi will now continue to balance training before and after school at Westminster Ice while attending University of California Irvine in the Honors program. As if this isn't enough Nhi has joined the Staff at Westminster Ice coaching young skaters. She is an inspiration to the skaters with her amazing
work habits!
Nhi is coached by World and Olympic Team Coach Doug Chapman and World Champion, Olympic Silver Medalist Dianne DeLeeuw.
Nhi's Equipment: Elite Supreme 5500 Boots & Ultima Freestyle Blades
---