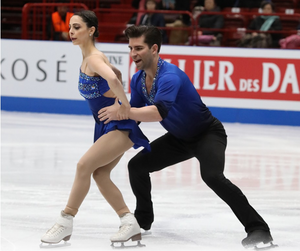 #JacksonFamily Interviews with Deanna Stellato (USA)
The #JacksonFamily is a large family of skaters wearing Jackson products. Whether it be Matrix Blades, Ultima Blades, Jackson Skates, skaters are encouraged to tag #JacksonFamily in their social posts and be a part of the largest skating family, from recreational to elite!
Innovation, Development and most importantly FUN are the core fundamentals of #JacksonFamily.
In our interview series, we go behind the scenes and talk with some of our skaters to get to know them a little bit better! This week, we got the opportunity to chat with Deanna Stellato! Former US singles skater turned Pairs skater!
Thank you for taking the time to do this interview Deanna! You infamously took time off from competing, but you're now in year 2 skating again! Are you enjoying being back as a competitive skater?
Yes, for sure, I enjoy it much more than loathing Monday morning on Sunday night having to go into work. I want to do this, and I liked my old job, but I would just loathe Monday morning.
I can totally understand that! What did you do at your former job?
I was a medical esthetician which is mostly dermatology, specifically the face. I joined just as the field was exploding. I was at a smaller office for ten years before coming back to skating. Very family-like, like skating where we all know each other.
Have you thought about doing that work in Florida where you train?
My license doesn't transfer from Illinois so I would have to study and retake a test for Florida then go before the state board for certification and that happens only every couple of years.
So prior to your pairs partnership with Nate Bartholomay, you skated singles; do you feel a big difference between say a triple Lutz and a "throw" triple Lutz?
I feel now being an adult I'm able to well articulate the difference properly:
When you're first learning a throw, it feels exactly like your jump — Because it is a little. So, there is not a lot of difference between your own jump and a throw — you're just getting some help doing your jump in pairs. When you actually make your throw, a throw, it will have multiple more steps then your own jump.
In a small throw, there is no deceleration on the exit, it's just not that high. When you're doing a big throw, you need to learn how to decelerate at the beginning and then at the end on the landing. Which is not something ever do on your own jump.
Which Pairs Elements coming from singles had the biggest learning curve?
I would probably say throws, because my ability to recognize three revelations hindered me. I recognized quickly where three revolutions is but I would have, what feels like, five more feet to the ice. So I was landing a quarter over and still rotating.
So that, and Twist. Because every other thing in pairs has something in single skating similar — except for twist. A lift is like a spiral, spins are spins, maybe a twist is like a triple Lutz, but you definitely do not split before it so it's not close to that either.
Do you feel a real spilt in a triple twist?
Oh yeah, you feel a spilt and you feel a delay before your rotation. Timing that delay is very specific too.
So you had a singles career. Now you are into your pairs career. And there was a bit of time between, do you run into people you used to compete against?
I sure do! Most of them are coaching and some are judging or announcing…or have moved on from competitive figure skating.
What was the funniest reaction?
The funniest was Ryan Bradley (US Champion 2011) who I came up with in
Juniors doing a lot of competitions together in 98 and 99. I remember at my first nationals back in 2017, I saw him and he said:
I heard about this… What the heck are you doing? Have you lost your mind!?
He was always able to make me laugh, so it wasn't a surprise that he would be comical about it!
Now in your second season of pair skating, how do you feel about skating pairs?
Yes, I feel like just this year I'm pairs skater skating pair versus a singles skater skating pairs.
Deanna's Equipment: Elite 5500 Boots
---