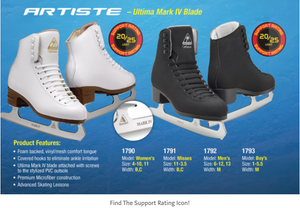 Jackson Ultima Support Rating System
Within all Jackson skates from elite to recreational, we have a support rating system that rates all the skates on a stiffness level. From 2 in the Excel, to 85 in the Elite Supreme 5500 we have many different options in between!
Skate manufacturers build varying levels of support into their boots to meet a variety of factors including skates level, weight, strength etc. Support ratings have been added to Jackson products to help skaters better understand why a certain boot may be better for them and the elements they are working on.
While certain boots are recommended for certain levels of skating, the variables of weight, height, frequency of skating and skill all play into the formula! The Debut is recommended for skaters working on axel and double jumps, however it is not uncommon to achieve those elements wearing the lower stiffness Fusion Freestyle OR the stiffer Premiere Boot. Make sure to consult your local skate tech and your professional coach to find the best skate! 
Here at Jackson, we don't just have one best skate. We have many different styles, fits, stiffnesses, all to find the right boot for you.
---